As Cincinnatians go, multimedia artist Pam Kravetz is something of an anomaly. Most often photographed emerging from a sea of colorful pom-poms (in a bathtub, on a hat, or on her clothes), she's also one of Cincinnati's most enthusiastic supporters of local nonprofits and arts and cultural organizations.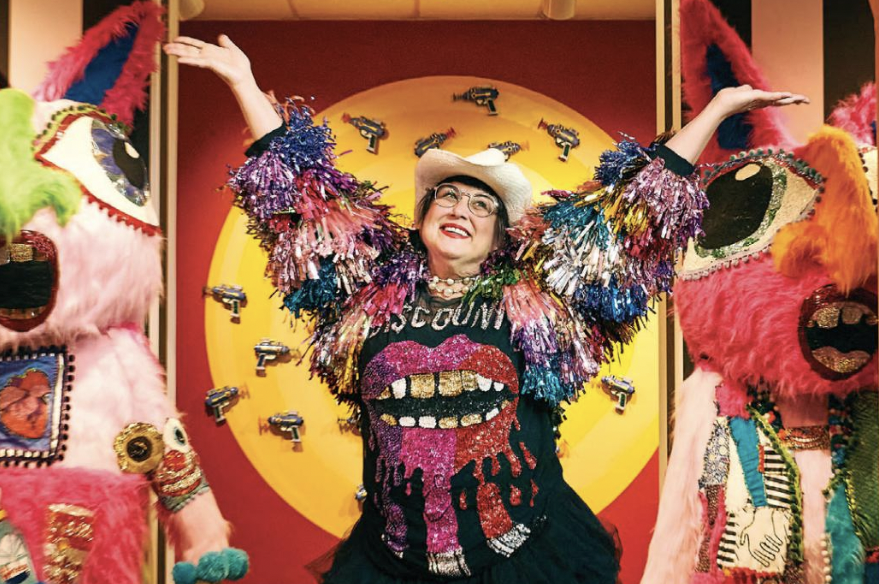 When I catch up with her on a Friday night in May, in fact, she's emceeing an event for Visionaries and Voices (V+V). It's impossible not to notice her attire: colorful sequined knee-high boots, a fuchsia tutu, and a giant silk floral arrangement-slash-headpiece. Art is life for Kravetz, and apparel is no exception to that rule.
More evident by the minute, though, is Kravetz's dedication to a worthy cause. Each year, she helps raise money for V+V by hosting Double Vision, an auction of artworks created by visual artists with disabilities who participated in V+V classes and programs. 
When four of the program's artists come on stage to speak, Kravetz ducks out for a wardrobe change including a new top hat made from a roll of Bounty paper towels with print art the artists helped design. Later, when another of the organization's artists, Diamond Snowden, joins her on stage to co-emcee, Kravetz is welcoming, supportive, and more than happy to take a back seat so he can shine instead. 
The Cincinnati Enquirer called her an "icon" and named her a Woman of the Year in 2017. Former Mayor John Cranley made it official on her 60th birthday last year, when—during a roughly 250-person surprise party at Washington Park—he proclaimed May 21, 2021, Pam Kravetz Day. Later, then-candidate Aftab Pureval jokingly introduced her as "the next Mayor of Cincinnati," a job she promptly turned down. ("If I could be Mayor of Fun, I'd totally do that," she notes.)
She works in multiple media: fabric, marionettes, clay, wood, paint, and more. What makes Kravetz unique is that she and her work—a nearly indescribable concoction of color, joy, sparkle, deep thoughts, performance, soft sculpture, and visual delight—are nearly synonymous. For years now, in fact, Kravetz has unofficially assumed the role of greater Cincinnati's arts ambassador: over-the-top outfits, big heart, and all. 
---
At home, Kravetz is casual—for her—in black leggings and tutu, a T-shirt and jean jacket, with her hair in pigtails. Her kitchen includes all the standard fare, plus six neatly stacked boxes of clay, several small sculptures drying on the counter, and a retro pink kiddie kitchen off to one side. ("When I saw it I had to have it," she says of the thrift-shop find.) Her family portrait in the next room, made by a friend, is a sculpture composed of five Ken- and Barbie-type dolls hanging on a wall with each person's name painted above, in script. 
But for all the fun and joy surrounding Kravetz's world and work today, she had some challenges growing up. She was graced with a loving second mother when her father remarried, but her birth mother, an English teacher, died of ovarian cancer when she was 8 years old. Kravetz was also one of the few Jewish students in the Indian Hill school district when she attended in the 1960s and '70s, and schoolwork in general did not come naturally to her. Basically, says Kravetz, "I never fit in." 
Instead of feeling sorry for herself, though, "I learned at an early age I need to embrace not fitting in or be really unhappy." Being sent to the principal's office for wearing go-go boots in kindergarten? Check. Illustrating book reports instead of writing them? Check. Making up her own routine as a member of the Indian Hill High School flag corps because she couldn't remember the rest of the team's choreography? Double check. Luckily, she notes, "my family was incredibly supportive my whole life and I was 100 percent saved by teachers along the way." They and she alike also realized fairly early on that "art was something I was good at," says Kravetz.
That advocacy and encouragement, plus a scholarship she won in a high school ceramics competition, helped Kravetz land at the University of Cincinnati, where she studied art and embraced an eclectic array of activities. Not only did she join a sorority, get nominated for "prom or homecoming queen" (she can't remember which), and serve as the Bearcat mascot for two years, she also won beer chugging contests and fell asleep at least once on the art model's couch. 
She had begun mastering the concept of "fitting in" socially, but in the art world … not so much. While her '70s art peers were embracing all things deep and dark, Kravetz found herself splashing a pop of pink into almost all her work. It was a sign of things to come. 
After graduation, she'd hoped to show and sell her work, but "somehow [art dealers] didn't find me at my parents' house in Kenwood," she notes with a smile. So, like many artists, she spent years—13 to be exact— waiting tables at Barleycorn's. When friends worried because she'd all but given up on making art, they convinced her to volunteer as a docent for the Contemporary Arts Center. It was there, notes Kravetz, that "I fell in love with teaching and learning. I was good at it, and I wasn't good at a whole lot of other things." 
That volunteer gig led a then-30-year-old Kravetz to put away her "punk-rock-phase" attire and apply instead for a full-time art teaching job with the Southwest Local School District. Though she'd never driven that far west of I-275 before, teaching there was an instant fit. "They let me be me. My paperwork was late, my room was a mess, but I loved teaching and the kids loved me," says Kravetz, who also spent summers as an ArtWorks project manager. 
Over the course of a 30-year career, she gave birth to a son (Max was born in 1994); was named Teacher of the Year (twice) and a Martha Holden Jennings Scholar; helped throw or emcee countless parties and fund-raisers (like the one for V+V); and—in a story worthy of a Hallmark movie—met and married engineer Craig Davis (after reading an article about her, he found a way to be introduced). But for much of that time, her art still took a backseat to her career. 
"I always thought art had to change the world," says Kravetz. But at a Miami University CraftSummer class, she recalls instructor Suzanne Fisher (a local painter and muralist) telling her: "You can be funny, joyful, and happy—that's a worldview we need to hear." Armed with that affirmation, Kravetz's career took off. The main challenge moving forward, she says, was "re-training [myself] to not be a grownup."
Until that point, she'd solely been a ceramic artist. But after Fisher's pep talk, and another CraftSummer class in quilting by artist Susie Shie, Kravetz set out to make one new piece of art per year in different media. 
Soon she was entering contests and hosting small shows and her collection included, among many other things, hand-sewn quilts with written messages, marionettes (which she'd learned to craft on a $5,000 Fund for Teachers study grant in Prague), and soft sculptures, some handmade, some repurposed—all in Kravetz's signature rainbow of colors. To date, she has shown her work locally at all the arts heavy-hitters in town: the Contemporary Arts Center, the Cincinnati Art Museum, 21c Museum Hotel, the Weston Art Gallery, and BLINK (she was also artistic director for the first BLINK parade), among others. 
As time went by, Kravetz learned that "collaboration is more fun" than sitting alone in a studio making art, and that "my art doesn't come to life until people interact with it." She also began to understand that she's as much a storyteller as she is an artist. "And the story," she says, "dictates the medium." 
Those realizations have led to some unique partnerships, like the Bombshells, a group of knitters and crocheters who wear blonde wigs and secretly cover everything from city buses to trees and statues in fiber art. Never mind that Kravetz is the only one who can't knit or crochet; she's the self-appointed "mastermind."
She's also included work from her Harrison High School students in almost every exhibit she's had to date, she says. "They've made a million, gazillion pom poms for me," as well as dozens of clay pieces and multiple "headdresses." 
One of the more impactful projects she worked on, says Kravetz, was the installation of 200 pieces of her work at Cincinnati Children's Hospital Medical Center, a place she credits with saving her son's life. "He had open-heart surgery [there] at six months old," says Kravetz, "so every piece had an anatomically correct heart in it—my own little 'Easter egg.'" 
---
After nearly three decades of teaching, Kravetz retired from Harrison High School in June 2021 but continues producing prolific amounts of art. Despite the fun colors and effervescent energy behind her work, "I don't let you out without learning something," says Kravetz. Case in point: her current multimedia exhibit at the Weston Art Gallery, I Think My Uncle Gershun Was a Golem, which runs through August 28 and tackles the subject of anti-Semitism and her Jewish heritage.
As with much of Kravetz's work, this project was a friends-and-family affair—named for a deceased uncle and with sound recorded by her son, Max, plus multiple pieces, including a hand-hooked rug and a Kravetz-made marionette of Queen Esther that viewers can operate via a turn-wheel, created or brought to life by Davis. As always, though, Kravetz was the master designer and artist-in-chief for the vast number of pieces in the show. Also true to Kravetz-form, the exhibit includes some repurposed items from previous shows, including a giant white bunny-like sculpture from BLINK that her mother and friends helped transform by creating hand-sewn, beaded eyes. (Her assistants are "paid entirely in bourbon," jokes Kravetz.)
There's always some hesitation Kravetz feels before releasing a big project to the world, she notes one month before the show's opening. "That's what people don't understand about an artist. You're putting your heart and soul on a wall." 
But given the warm reception her work has received citywide for years, Kravetz is likely worried for nothing. Besides, once one project is out in the world, she eagerly embraces the next one. And the next. 
The morning after the V+V fund-raiser, Kravetz was busy overseeing a "street painting" event on Pleasant Street in Over-the-Rhine; she painted colorful templates—flowers, fruit, feathers and more—on the pavement and people came later to help fill them in with more paint. Looking at the pictures of smiling kids, young adults and parents holding red Solo cups of liquid color, it becomes clear once again that Pam Kravetz's life and work are about bringing people together: "Art," she notes, "as the great connector." 
Facebook Comments